Luke's Personal Story;
The number of people suffering from allergies is increasingly common. Statistics tell us that 8 main foods make up a staggering 90% of all allergic reactions. The main offenders are milk, egg, peanuts, tree nuts, wheat, soy, fish and shellfish. Despite parental vigilance, reactions from time to time are a reality. There will be a missed ingredient, well-meaning family and friends, or eating out as a family at places where people may not understand food allergies. Don't beat yourself up when something goes wrong. You're learning, and I'm going to offer some extra info.
My youngest son, Barnaby, navigated the first 8 years of his life with milk, egg and peanut allergies. This has had a tremendous impact on our family. Once we confirmed his 'not okay' list, we had a pretty steep learning curve to climb. Barnaby's reactions are severe. Dairy elicits anaphylaxis (swelling of the airways), while eggs and peanut cause abdominal pain and nausea. I understand that everyone will have differing levels of severity and sometimes even varying symptoms between reaction, and you should keep this in mind, too. Luckily, we've discovered a few life-changing tips which made things easier. In sharing these tips I hope that you'll have a clearer idea of how to keep yourself or a loved one healthy.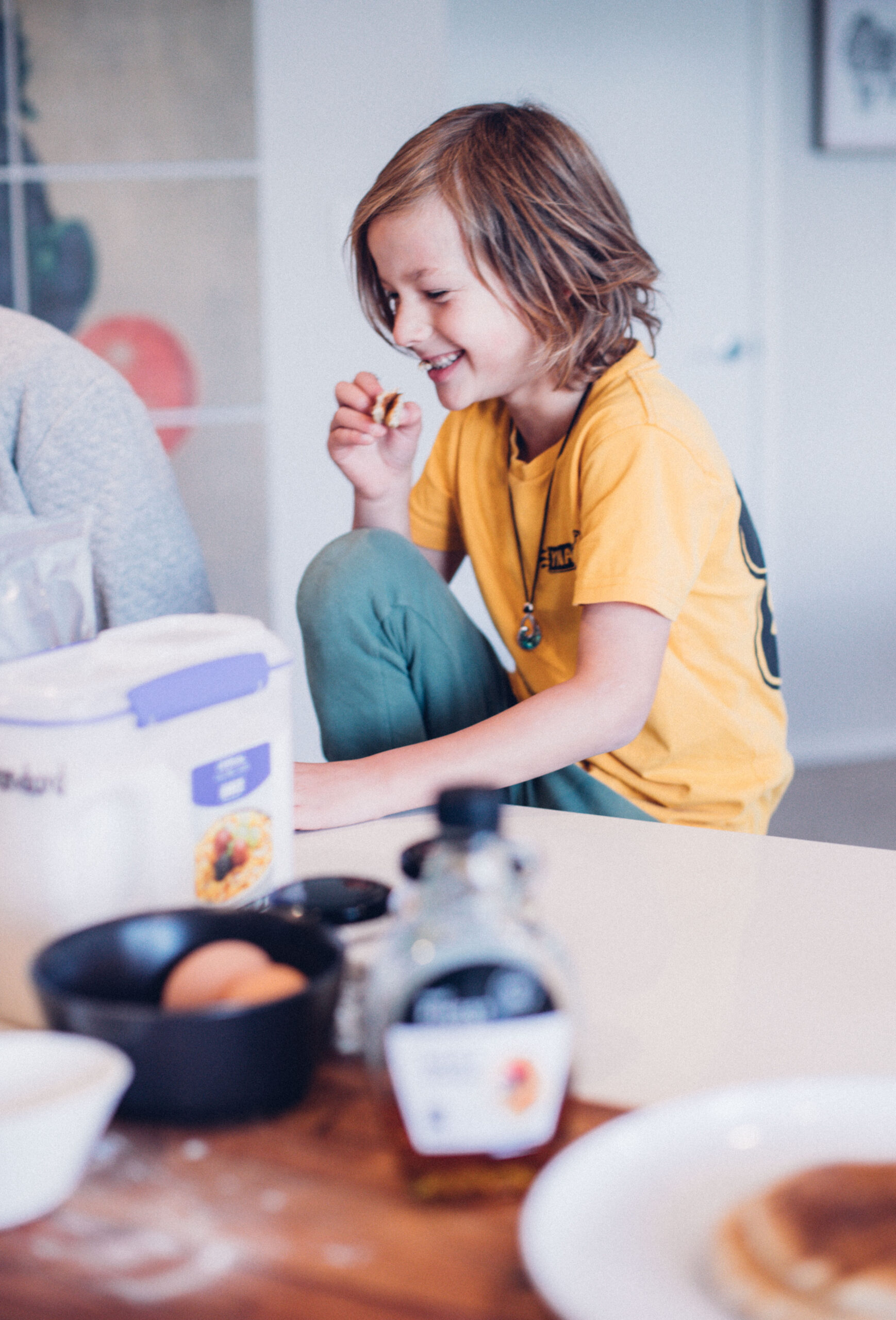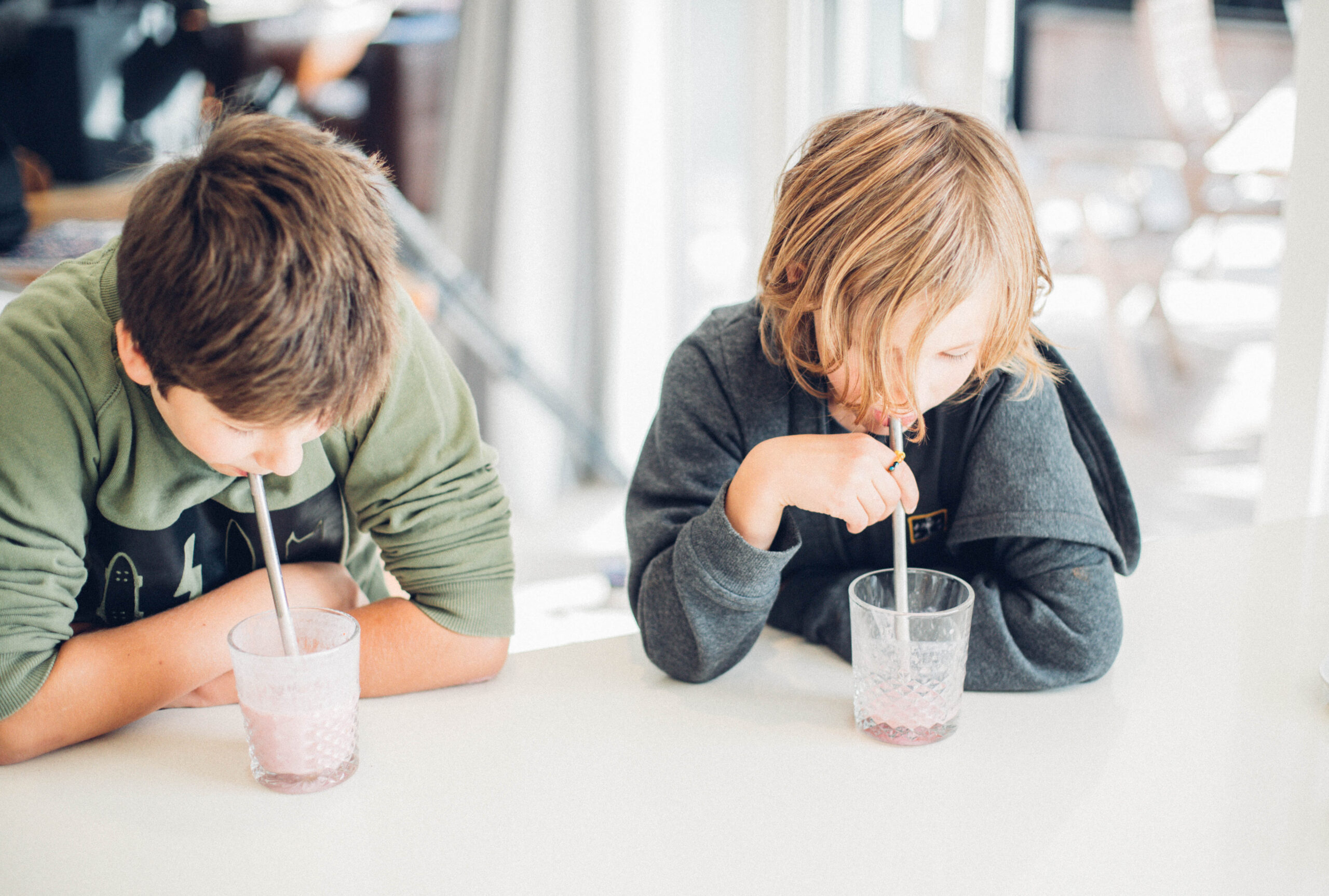 My top tip is to make time to plan. If your little one is going to a party with cakes and other goodies, make sure you have something appropriate as a substitute. Every day mealtimes can be tricky to navigate at first. We started off banning all allergy foods from the house, but it became apparent that this did not work for our eldest as he was missing some of his favourite treats. As a solution, we made a separate work-station for food prep.
Read ingredient lists on food packaging until it becomes second nature. If you're not used to this, start with the 'contains' section under the ingredients. Major allergens in NZ products have to be in bold type, however, this is not the case for all imported products so you need to be thorough. Learn to be vigilant, and as your child gets older, encourage them to be aware of food labels.
The biggest tip I should elaborate on is planning. Hectic schedules and after-school activities make meal planning an absolute must, especially if you want to avoid dietary monotony. Cooking for allergies takes a little more preparation than a standard family meal. My partner and I usually sit around after the boys have gone to bed with a few of our favourite cookbooks and choose our weekly meals. From there, we build a shopping list with adjustments made for Barnaby. Most times he will have the same meal with one or two ingredients swapped out. I've accumulated a great collection of cookbooks over the years, but it's pretty easy to jump online and find some excellent recipes that you can adjust to suit. Also, don't be afraid to swap out ingredients and add your own flair. That's what cooking is all about – experimenting!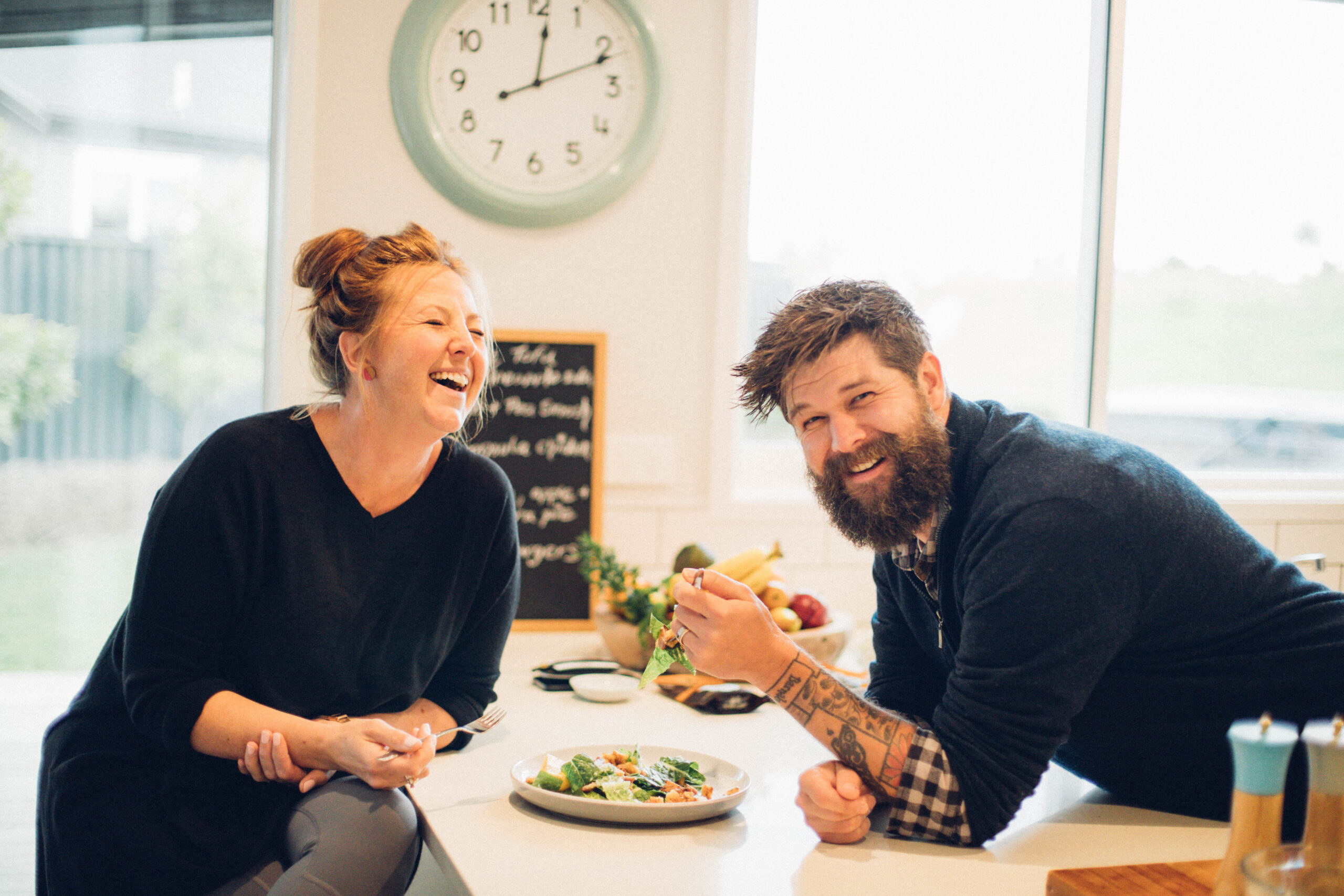 As Barnaby has gotten older, we've made the decision to include some products that 'may contain traces' of allergens on the basis that he reports any reaction to us immediately. Of course, this may not be right for every family, but this has enabled us to include a much greater range of foods in Barnaby's diet. Instead of being limited to his mundane 'safe foods', he gets to experience more excitement and inclusion around meals.
I'd love to tell you we always make one meal that suits everyone, but sometimes that just isn't the case. Kids can be fussy, right?!  Despite our best intentions sometimes we end up making up to 3 separate meals in a night. I've spent time trying out a new recipe only to have both boys not eat it and end up having beans on toast! But, on the bright side, it means great leftovers for lunch the next day, so don't let the fear of kids turning their noses up at new meals put you off. I'm a huge advocate for the one-pot wonder style of cooking for busy weeknights. Whether it's a curry, a gumbo, a risotto or a soup, mealtimes are easier when you chuck everything in one pot – not to mention clean-up time! It's usually freezer-friendly too, so if your meal is a hit, freeze it in batches. This has proven awesome for Barnaby when we want to try a new recipe that can't be modified to suit him, as he'll still get something tried and true.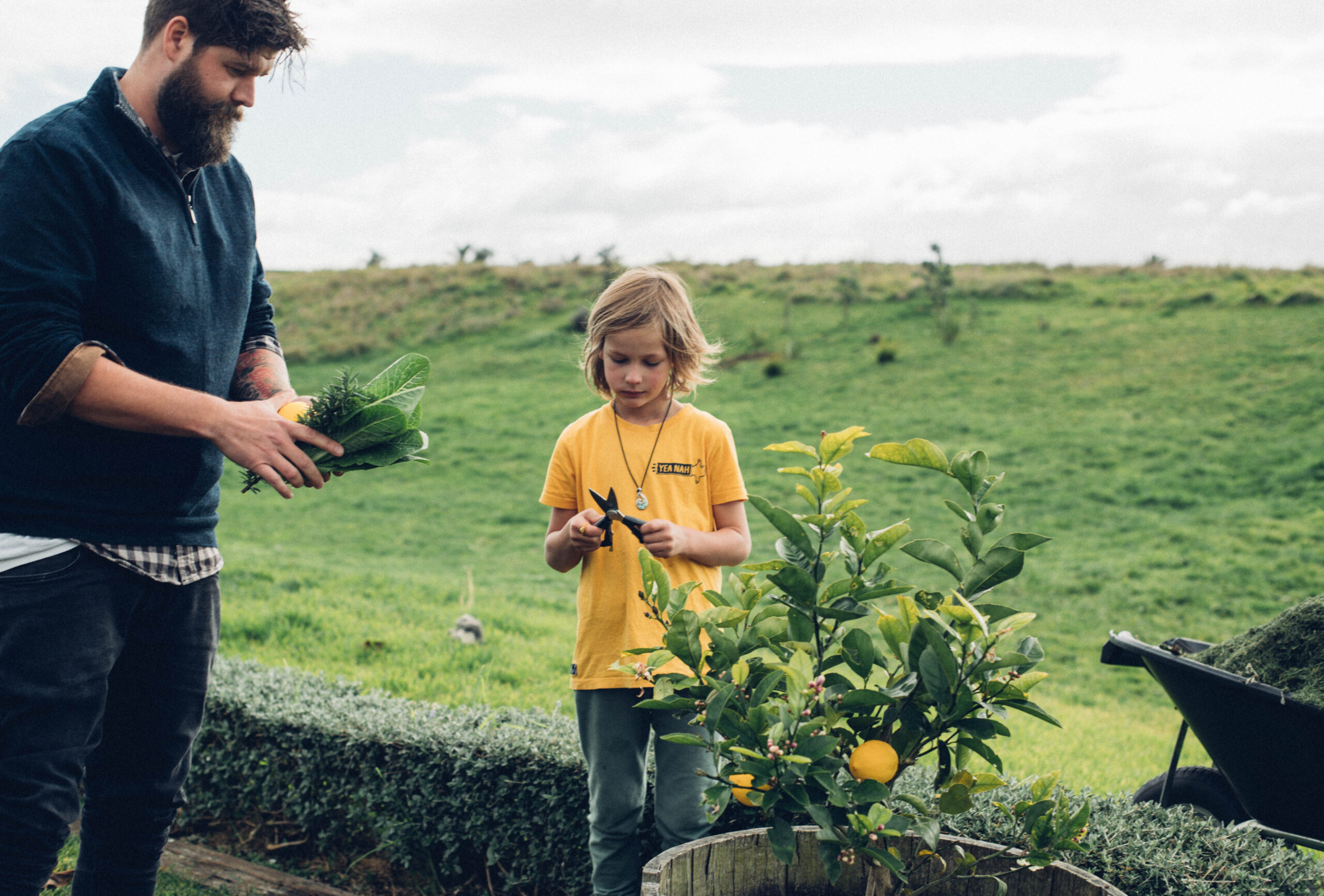 Another thing to be aware of is replacing valuable nutrients that would otherwise have come from potential allergens, like protein and iron. Getting this right in Barnaby's diet was a challenge at first. Chickpeas, lentils, beans, avocados and nuts (without the pea) feature highly. Supercharged fruit and veggie smoothies with hemp protein, flaxseed and almond milk keep us reassured that he's getting in some great nutrients throughout the day.
We've also found it useful to come up with an umbrella term to easily communicate Barnaby's dietary needs. We've found the best way to describe him is vegan. Minus peanuts, of course. Barnaby is a huge animal lover, so on top of his allergies, he has decided not to eat meat! With the odd exception of bacon…
To end on a reassuring note, I saw that from a surprisingly early age Barnaby was able to let us know if he'd had something reactive. He took responsibility and started to monitor his health and check the labels of what he was eating. You need to trust that your kids will let you know what's going on with them. From listening to us explain to waiters and cafe staff over the years, Barnaby has developed the skills to communicate his needs himself. It certainly makes a dad proud! Another thing I've noticed is a wider range of menus to suit dietary requirements and a shift in the awareness and education surrounding allergies. This has made eating out and enjoying food as a family much easier over the last few years.
Basically it's about being aware of ingredients. I want to make Tom and Luke as accessible as possible for everyone so that people can trust our ingredients. We're dairy free, gluten free. Not nut free. But nuts are pretty choice, so long as you aren't allergic of course!
Q:  What's a quick and easy tummy filler that's allergy friendly?
A:  Smoothies are great.  My go-to smoothie is simply banana, almond mylk, cinnamon, vanilla, hemp seed.  Blitz it up and serve fresh.  But you can add and supplement with personal favourites, or whatever's left in the fridge or fruit bowl?
Q:  What's your favourite lunch to make for B?
A: Homemade baked beans on toast. Can't beat it.
Homemade Baked Beans.
Such a simple recipe but it involves time. Trust me, you'll never buy them again
2 big onions

6 cloves of Garlic

¼ cup of chopped fresh thyme and rosemary

3 cups of dried beans. Navy/Pinto/Borlotti or whatever you can find

2 bottles of tomato passata

Salt and pepper
First, the night before, soak the beans in lots of water (about twice the height of the beans) so the next day they are twice the size and softened. Then drain, add to a pot with lots of water and bring to boil. Skim any foam from the surface and simmer till tender. Don't add salt yet, I find it makes the beans tough.
In another pot go in with a good lug of oil and your chopped onions and garlic. Medium heat and cook till soft and translucent. Add herbs and cook for a further 5 mins. Dump both bottles of passata into the pot and give it a good season with salt and pepper. Get it bubbling and let it cook out to develop flavour. If it starts to reduce too much just add a little h2o.  Once the beans have become tender, drain and transfer to a big deep roasting dish. Pour over your tomato base and stir through the beans. Have a taste, does it need salt? Most likely it will, beans need a good amount of seasoning.
Then you want to add about 2 cups of h2o.  It's going to look too watered down, but trust me it's going to need that liquid because it's going in the oven uncovered on 150c for about 3 hours.  Most of that water will evaporate and you'll be left with the best beans you've ever had. If the liquid is evaporating too fast don't be afraid to add a little more to keep the beans cooking. If it dries out, they won't be as good. They're ready when the top gets little dark patches and the whole thing is looking a little gnarly.
Then just give them a gentle stir and season again if it needs it. I like to stir through a big handful of chopped parsley at this point.
Normally I would then transfer the cooled beans to smaller containers and fridge or freeze depending on how fast you're going to eat them. I make these for my youngest boy and he loves them on toast or with corn chips. I've also made these a few times for BBQs and they are always a hit.
Q:  What's your go-to allergy-friendly dinner for the family?
A: Vege Nachos with guac/pico de gaio. This one is great because you can load the nacho mix up with veges, and the beans are a good protein source.
Vege Nachos
Add tomato passata and a can of kidney or black beans. (Fresh, if you have the time or inclination). Bring to a slow simmer and cook till it's rich and full of flavour. Then re-season ( it will need a little salt) and add the chopped leaves of the coriander and a squeeze of lemon juice. Boom.

Pile on top of good corn chips and add guac and salsa. My boy goes crazy for these.

Q:  Is there a website that you find super helpful to find allergy-friendly meal ideas?
A: Honestly, Pinterest is fantastic. You type in what you're looking for and get hundreds of great ideas. Perfect for menu ideas for the week if you're stuck.