Hopefully, we have all done this. You're sitting in a restaurant or café, or you're at home making something in the kitchen and you taste something… your brain instantly relates that taste with a memory of something amazing you tried as a child or it evokes sentimental feelings from the past. The first time you had a chocolate dipped strawberry, your mums baking, that first taste of something fresh from the ocean. The list is substantial and not to mention extremely varied and personal. I believe these moments are hugely important, and if you can use them in the creative process, it is a powerful thing. It's these kinds of memories that, for me, lead to real breakthroughs when we are developing flavours and products at Tom & Luke. When we mix these potent memories with our talented team at Tom & Luke, and add some creative expression to the pot, it is a winner every time. This is when we create products we can be truly proud of.
Take our two new creations at Tom & Luke for example. Firstly, our Beetroot Raspberry Brownie. Now this flavour holds a special place for me. A few years ago, I had the pleasure of owning and working in a café with a good friend of mine. This was a period in my life where I was able to truly experience creative expression. We made things our way, with no compromise on quality. Sometimes it did not go to plan, but there was a huge amount of pride in what we were creating. My mate had taken on a massive interest in the raw vegan space and was turning out some amazing sweet treats. Here's the food memory… Among the creations were these earthy, tart, amazingly balanced beetroot raspberry brownies that are some of the best brownies I've ever tasted, and that combination of flavours is one that I've never forgotten. So… when we decided we wanted to create something new and exciting for our Tom & Luke range, I knew this combo would be perfect. Sweet, tart raspberry with the rich earthy undertones of beetroot, enveloped in the chocolaty goodness of cacao, what's not to love? If you're a fan of a brownie and exciting, well-balanced flavour combinations you need to try this.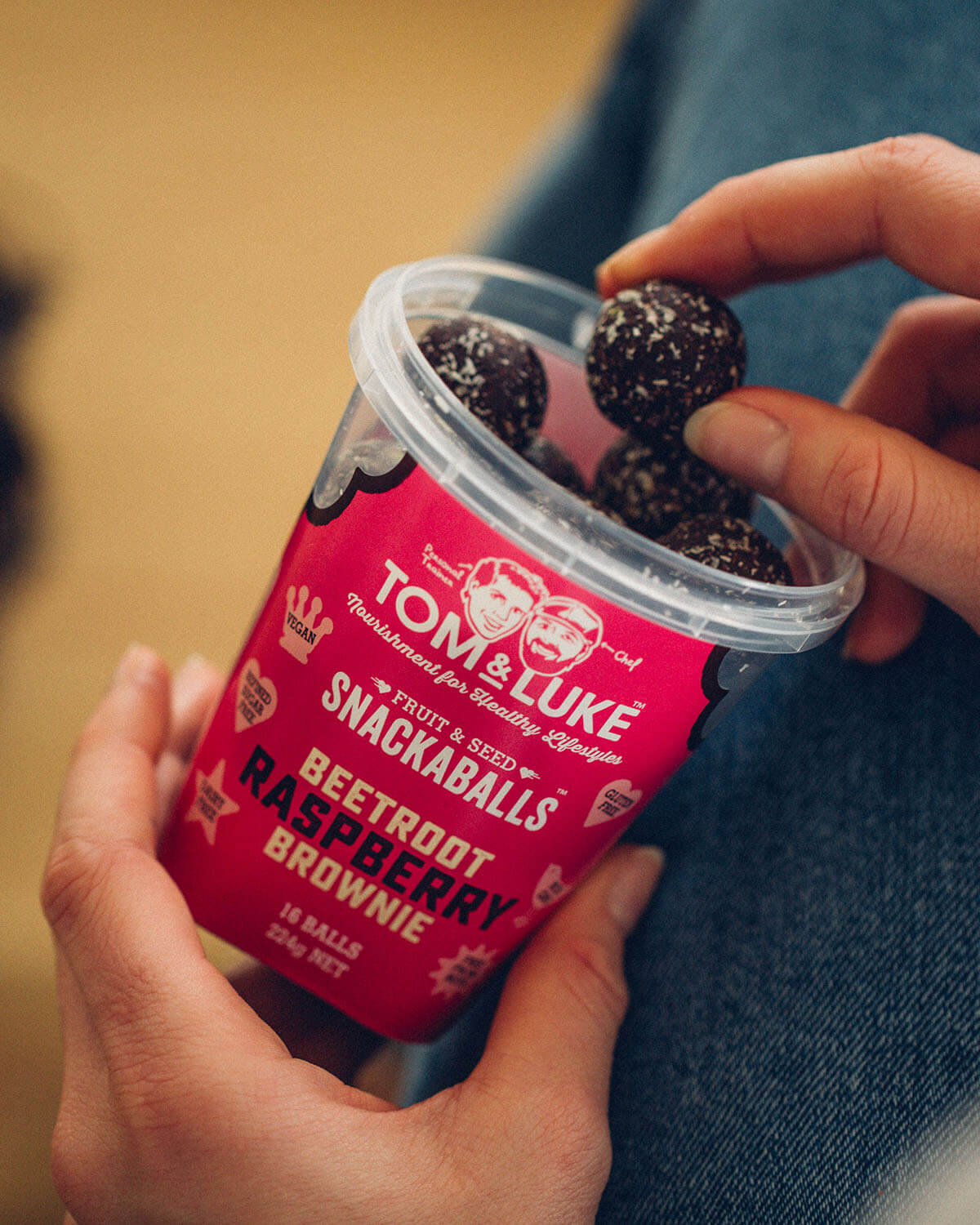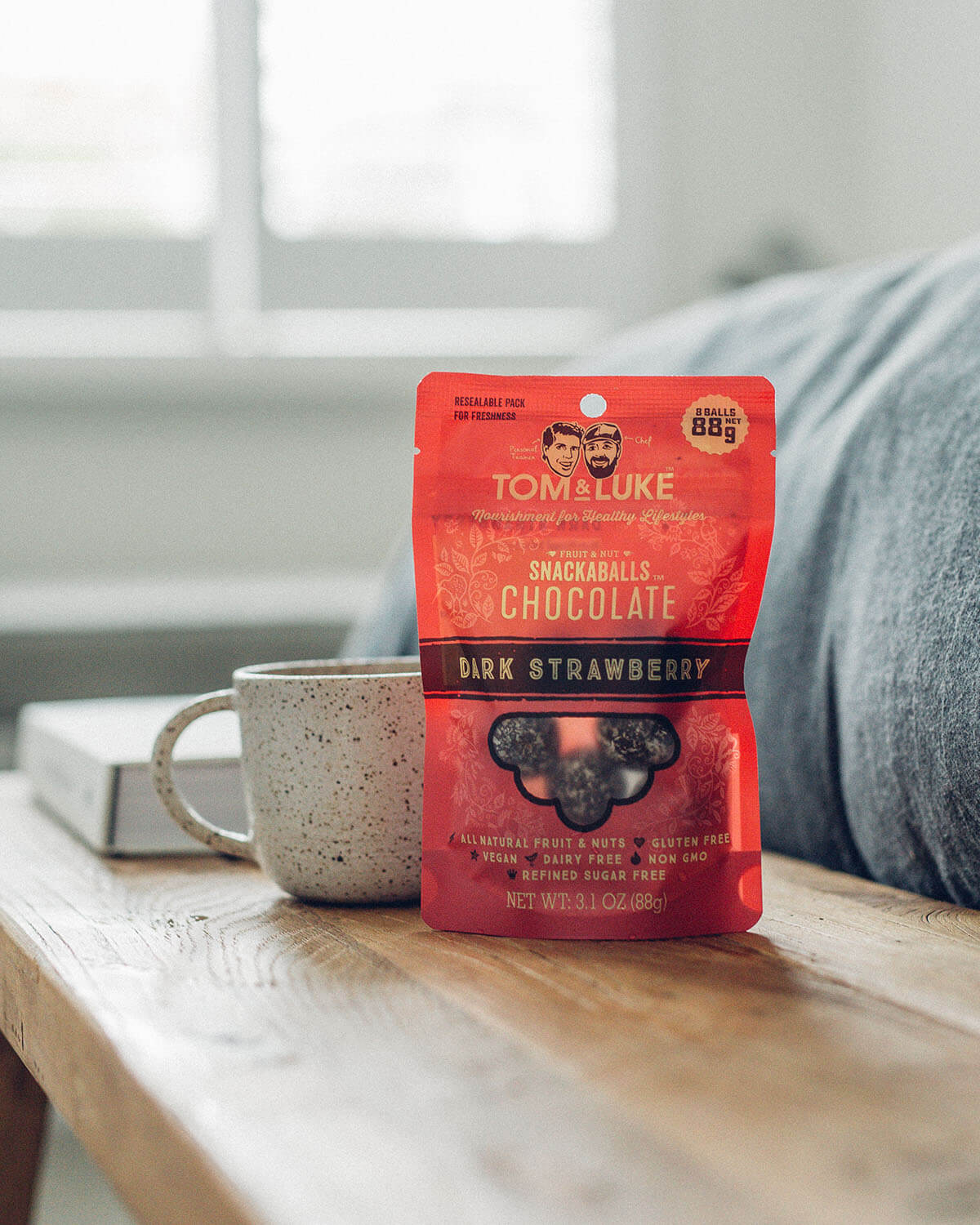 The next nostalgia trip goes back a bit further. Summers in New Zealand coincide with Christmas, which is by far the best time of year to feast upon fresh, ripe, intensely flavourful strawberries… Food memory #2. I'm probably 7 or 8 years old, and it's Christmas day. There are smells of BBQ in the air and Phil Collins is playing in the background. My extended family are gathered for our annual Christmas day party. The table is packed with "bring a plate" style goodies and Christmas crackers. Among these plates is a mound of chocolate dipped strawberries. Now, I'm pretty sure I don't need to describe a choccy dipped strawb to you guys, except to say that you would need to shackle me to a tree to stop me from smashing through the whole plate. To this day I still look over my shoulder every time I eat one, waiting for a "That'll do!" or "Get away from the strawberries!". Juicy, ripe strawberries and chocolate are soul mates. For Tom & Luke it seemed logical to add this combination to our Chocolate Snackaballs range. These little guys will add a smile to your face for sure. And with that I'll end with the thought that everything we do at Tom & Luke we do with a huge amount of pride, and I like to think that it shines through in our products.
Cheers Guys.
Luke.